Welcome! Please visit frequently, to get information about upcoming events or to volunteer your time or talents. Join us at our monthly DTC meetings, the first Wednesday of each month, 7:30 PM at the Rec House, 7 Mountain Road. Check our Committee page for this year's dates. We look forward to seeing you there!

— Lesa Peters, Town Committee Chair
---
Regularly scheduled meetings of the Woodbury Democratic Town Committee are held at 7:30 pm on the first Wednesday of the month at the Rec House, 7 Mountain Road in Woodbury.
All registered Woodbury Democrats are always welcome — and encouraged! — to attend. Meetings will be held on the following dates in 2016:

October 5
October 26 (Nov mtg)
December 7
Upcoming DTC and Town events ~ SAVE THESE DATES:
Sep 26, 8:30 PM, Presidential Debate Watch Party, Emergency Services Bldg, Quassuk Rd., Woodbury

Oct 1, 8 AM to noon, Fall Cleanup Day-meet at the Hollow at 9 AM! OR, clean up your own road


Oct 2, 2-6 PM, Fall Fest, Main Street Woodbury, join us for FREE mini-golf!
Oct 15, 5:30-8 PM, Red, White & Blue BAR-B-Q Fall fundraiser, 5:30-8 PM,
Senior-Community Center

Oct 19, 5:30 PM, WBA-sponsored candidate forum, Curtis House, Woodbury
---
CAMPAIGN 2016!
Absentee ballot applications: send email to lcpeters@earthlink.net with your address (or address of your away at college student), and I will send out the ballot application, with instructions to return to the Woodbury Town Clerk.

Absentee ballots will be available around October 7th at the Town Clerk's office, for those who will be away on Nov 8th. You can complete your ballot application and the ballot Mon:Fri, 8AM to 4PM on/after October 7th.
Phone banking will be starting soon-if you want to participate, please send email to lcpeters@earthlink.net. Let me know what evening (5-8 PM) or weekend afternoon (Sat/Sun 4-6). I will send email once I have scheduled dates. We will be calling Woodbury registered Democrats.
Phone banking for Clinton is held on Tuesday evenings 6-8 PM at Cornucopia in Southbury; if you want to participate, send email to ededelson@charter.net. These calls are to CT Democrats (and some Unaffiliateds), and to swing states (NH, PA, OH, etc.)
Yard signs will be available in early October; we typically put up signs 30 days prior to the election, and will concentrate on main roads. Signs will be available for Clinton-Kaine, Blumenthal, Esty, Cava, Carr. If you would like to put up signs, please
send your name/address/which candidates' signs to:lcpeters@earthlink.net.
---
ANNUAL 10-TOWN PICNIC IN HOLLOW PARK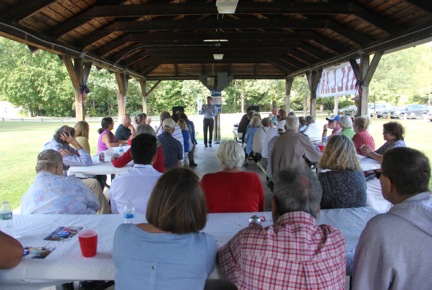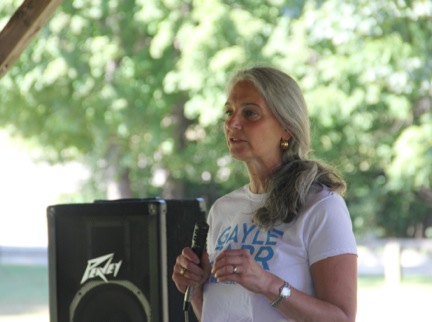 Gayle Carr (above), Candidate for CT 66th District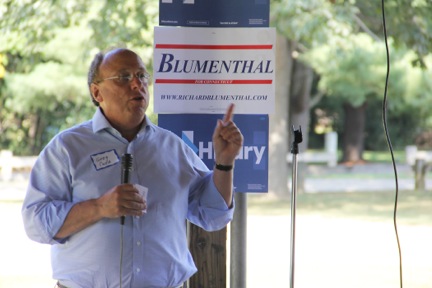 Greg Cava, Candidate for 32nd State Senate District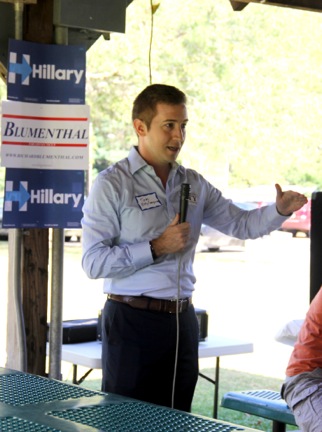 Campaign representative from US Rep. Elizabeth Esty's campaign

---