Welcome! Please visit frequently, to get information about upcoming events or to volunteer your time or talents. Join us at our monthly DTC meetings, the first Wednesday of each month, 7:30 PM at the Rec House, 7 Mountain Road. Check our Committee page for this year's dates. We look forward to seeing you there!

— Lesa Peters, Town Committee Chair
---
ANNUAL DEMOCRATIC PICNIC IN WOODBURY'S HOLLOW PARK
SET FOR SATURDAY, SEPTEMBER 17, 2016!
The area Democratic Town Committees are once again working together to host the annual fall political picnic. It will take place on Saturday, September 17th at Hollow Park in Woodbury from 2 to 4pm. All are welcome to attend this free event. All of the State and Federal candidates have been invited to attend and provide voters with an opportunity to meet the candidates.
"This annual picnic has been a great success over the years due to the close collaboration of the Town Committees of the 32nd Senate District (Bethlehem, Bridgewater, Middlebury, Oxford, Roxbury, Seymour, Southbury, Washington, Watertown and Woodbury). By working together, we get a larger attendance, which is an inducement for Democratic candidates to make sure they attend", said Ed Edelson, former First Selectman of Southbury. He is one of the representatives to the State Democratic Party from the 32nd Senate District. Sharon Sherman of Woodbury is the other representative.
Invited candidates include U.S. Senator Richard Blumenthal; U.S Representative Elizabeth Esty; Greg Cava, candidate for State Senate from the 32nd Senate District; Gayle Carr, candidate for State Representative from the 66th District; and Theresa Conroy, incumbent and candidate for the 105th District and Scott Flaherty, candidate for State Representative from the 131st District. Senator Chris Murphy is also expected to be attending. The Clinton campaign has said they will send a high level surrogate from the campaign.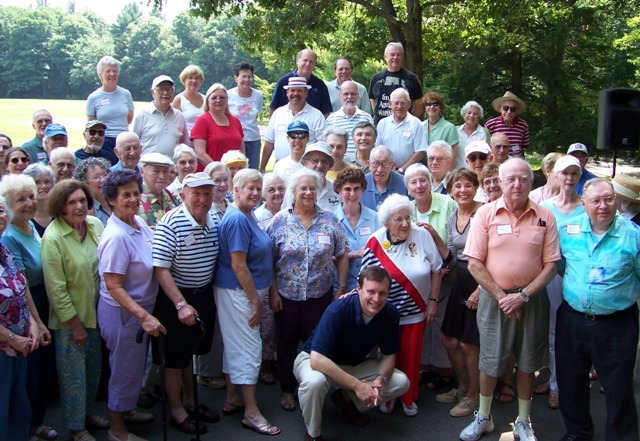 US Senator Chris Murphy at an area picnic in 2007.
---
"A Positive Step Toward the Future"
A letter from the Woodbury Democratic Town Committee in support of the recently accepted application to the American Institute of Architects, Center for Communities by Design for a Sustainable Design Assessment for Woodbury.